Lodging
Lodging has been secured for you in Corvallis and in Newport.
Program Lodging in Corvallis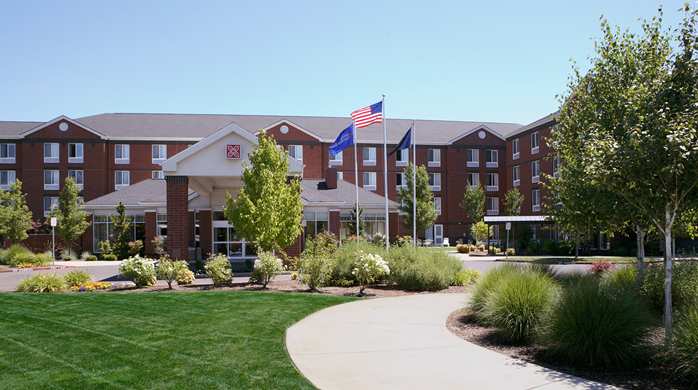 Hilton Garden Inn
2500 SW Western Blvd
Corvallis, OR 97333
(541) 752-5000
Week One:
Your hotel reservation will be based on the arrival date you give when you register.
If you are arriving on Sunday, check-in is available anytime after 3:00pm. Your room and tax will be direct-billed to the conference. A credit card will be requested for incidentals and will not be charged unless you purchase items or services and put them on your room. Sunday evening I will host a gathering at 7:00pm in the hotel lobby, for those who that have arrived by that time.
If you choose to arrive on Monday, please arrive by 7:30am to the George W. Peavy Forest Science Center on SW Jefferson Way so we can get you registered before the course starts. You may check into the hotel on Monday after class.
09/13/2021 through 09/16/2021: Lodging will be at the Hilton Garden Inn, Corvallis, Oregon. Breakfast is provided in the lobby of the Hilton Garden Inn. Friday evening, September 17th, you will have a room on the coast.
Coast Field Trip:
Have breakfast at the hotel on Friday, September 17th, and then check-out of the Hilton Garden Inn.
09/17/2021 through 09/19/2021: Newport, Oregon. See the Field Trip page for more information.
Week Two:
When you arrive back to the Hilton Garden Inn on Sunday evening you will need to check-in for the week.
09/19/2021 through 09/23/2021: Lodging at the Hilton Garden Inn, Corvallis, Oregon. Thursday, September 23rd is the last hotel night, the course ends at noon on Friday, September 24th.
Getting to Corvallis
Driving Directions from I-5:
From I-5 take Exit 228
Turn west onto Highway 34 toward Corvallis/Newport, continue on OR34 for about 10 miles.
Turn left onto OR 34 Bypass/Corvallis-Newport Highway toward Philomath/Newport/Reser Stadium.
Continue on OR 34 for about 2 miles turn right onto 30th Street, continue to Washington Way and make a left.
On the right, just south of Richardson Hall are parking lots.
All campus parking requires purchasing a permit, see instructions below.  
Flying into Portland:
Flying into Portland (PDX) is typically the most cost effective option with the most available flights, and there is a dependable shuttle service run by Groome Transportation to get you to Corvallis (the Hilton Garden Inn). RESERVATIONS ARE REQUIRED for Shuttles!
Portland Shuttle Service: 
Groome Transportation service is available every 90 minutes from Portland International Airport (PDX) and will take you directly to the OSU campus. Reservations are required and can be made online at groometransportation.com or by phone at 877-693-3785. Adult rate one way is $39.00.
Portland Rental Cars:  Go here to find out what rental cars are available at the Portland International Airport.
Flying into Eugene:
The Eugene Airport (EUG) is the closest airport located 45 minutes south of Corvallis with convenient connections to Seattle, San Francisco and Denver.
Eugene Shuttle Service:
Hub Shuttle offers shuttle service on-demand from the Eugene Regional Airport (EUG) to OSU. Advanced shuttle booking is required. For more information visit hubairportshuttle.com or call 541-461-7959.
Eugene Rental Cars: Go here to find out what rental cars are available at the Eugene Airport.
---
If you are interested in rideshare please use the ride share page.
RIDESHARE
We can help facilitate groups of people into rental cars — it is a two full hours to PDX, but a quick car drop and walk into the terminal. It is less then one hour to the Eugene airport. If you are interested in coordinating a ride share, please use the ride share page on this website.
CAMPUS DINING
Breakfast is included  with your lodging. Other meals will be provided through catering and meal cards.  Full List of Campus Dining Options